I hope you don't mind that I put down in words....
-Elton John
I don't know when my obsession with the film MOULIN ROUGE became real. Oh wait, I do… the moment Ewan McGregor sang "The hills are alive with the sound of music", it was over. Done. Finished. Signed, sealed, delivered. I was hooked, and not just a mild "Oh that movie was great", it was an OBSESSION. I torrented the soundtrack via Napster (Remember Napster!?!? Haha), burned a CD, and played it in my Jeep Wrangler non stop. I saw the film at least 5 times in the theatre, and any newspaper article or journal clipping having to do with MOULIN ROUGE could be found in a pile on my desk (I have no idea where any of that is now…. #hoarder)
Now, I loved Baz Luhrmann's films prior to MOULIN ROUGE. But MOULIN ROUGE is a musical which made my musical-loving heart flip. The visual matches the score. The score follows the emotional arc of the film and sustains every last beat, breath, and feeling. In my mind it's the perfect visual representation of love expressed through music. If you had to score the highs and lows of love, this is what it would sound like. It's exhilarating. The camera swirling through the Moulin Rouge with the explosion of lights, color and sound during the first love song; then the anxiety, darkness and pain wrought during the finale is a lesson in brilliant storytelling. Every last moment is scored, and every last heartbeat is detailed. Perfection. Truth be told, I feel like love always needs a soundtrack.
If you know me you'd know I'm like Christian in that I have a "ridiculous obsession with love" (happy endings, beautiful imagery, fairytales, and stories of love conquering all obstacles). So it's obvious that this movie spoke so deeply to me. It was through this film that I discovered an affinity for how Baz uses heightened conventions to describe love in all of his films: movement in STRICTLY BALLROOM, poetry in ROMEO & JULIET; music in MOULIN ROUGE, and a vibrant spectacle of costuming and extravagance in THE GREAT GATSBY. It's absolutely brilliant. And MOULIN ROUGE utilizes all conventions equally - which is probably why I love it the most.
Two years ago, I had a goal that I was going to complete a series of photoshoots inspired by Baz Luhrmann's films. I was excited. I thought to myself "How will I navigate this photo adventure while being true to myself as an artist and holding onto the artistic imagery of these films, without making it cosplay?"… Easy right? The ideas began to flow while I battled every part of my brain that wanted to go literal, and challenged myself to take artistic license (because if you want literal you'd just watch the films). I knocked out the first photoshoot, Romeo & Juliet, posted it to my Facebook and the response was great. I began to tackle the second shoot, this project, and initially was inspired and excited to share the images. But then nothing came of it. Deep down I began to second guess myself and (in full disclosure) I gave up. Like any artist the struggle to overcome self-doubt became heavy. I couldn't look at my images without feeling like I had let myself down. Simultaneously, I went through a major life change with my mental and heart health becoming my main priority. So, I shelved the shoot, much to the chagrin of my models and team who helped me put the shoot together.
Aside from my personal reservations, one of the biggest challenges I found myself with was how to properly execute this shoot. Ninety percent of the film takes place indoors and at night. So, navigating the right time and place wasn't easy. I found a location that I felt captured the essence of Paris, and a friend of mine was gracious enough to loan me his dance studio for that "theatre" slash 'standing in the stage wings' feel. Plus, the lights hung up in the studio helped provide a foundation from which I could take the images and adjust them in post production. It was all very involved, a bit overwhelming, a little costly, and definitely time consuming.
At the beginning of this editing process my knowledge in Photoshop was practically non-existent. I could remove a few blemishes or a few unwanted people from the background, but altering an entire image was no where near my wheelhouse. Typically, my images are shot and then edited with minimal use of Photoshop. Without the use of large set pieces and props I relied heavily on Photoshop to process the images in such a way that I could adequately reflect the heightened world of Baz's Moulin Rouge. I had no choice but to up my Photoshop game. It was a very slow start at the beginning. Layer by layer, mask by mask, I began tweaking the edits I was creating. There was many a moment where I went overboard and had to tone it down; I needed to have more precision with my point of view. Eventually, the images started to come together, bit by bit, and what I was seeing became very exciting. What seemed daunting and frustrating two years ago became a relief and kind of exhilarating. I was able to see the shoot through a different, more mature set of eyes; a new perspective and greater appreciation for all the work that my team and I had originally put into this shoot.
It's interesting to revisit a shoot two years later, where my set of skills is different, my perspective is different, and my heart is different. I shoot differently now, I edit differently now, and I organize my photoshoots differently now. Everything I do in my work now is approached with the knowledge and enlightenment these past two years have provided me. With this shoot, I had to ask myself, "How do I take all the ideas I had originally conceptualized and realize them in a new way (with two years of acceleration to my current set of skills), all while honoring the original vision of the shoot?" I was stuck. The only thing I kept focusing on were my original ideas. I had to separate from my old self with my old ideas and allow inspiration to revisit me. Once it started coming together, it all began to make a bit more sense. Perhaps I originally jumped the gun a bit with some naïveté, or maybe my original concept needed two years for the proper inspiration to hit. Either way, time was my friend. Just like a painter might lay oils or acrylic over an old artwork to re-invent it, I too could bring this shoot new life and purpose. I began to add layers to the original works, refreshing them, bringing them from what I thought they once were to what I know them to be now. It was art imitating life and paralleled my own transformative growth through this period. Beyond the logistics of trying to rework an old set of images, the biggest challenge that stumped me was me and my own expectations of what this shoot was "supposed" to be. It took some serious time to come to this new understanding. As frustrating as it was, I'm thankful that my muse didn't give up on me, but rather was patient throughout the refining process of not only my work, but of my life.
So, here we are… two years later and I'm ready. This was a passion project and, much like Love, it took some serious finessing to get here. Similar to the feelings we find while experiencing Love, Baz created a world that was erratic, schizophrenic, wild, tame, passionate, sensual, and vibrant all at the same time to visually represent the story. In creating this collection, I found myself battling just HOW to present this photo narrative. I knew that there was no way to tell every last moment of the story without the use of a proper set and costumes. But, I knew with the help of my newly learned Photoshop skills, I could include the major turning points in the story, and leave it up to you, the viewer, to fill-in the blanks. Assuming that most of you have seen the film and know the soundtrack, the best way for me to present it would be as a photo narrative in a story board fashion. Much like a Pinterest board for inspiration where you'd find an eclectic mix of reference images, images inspired by, quotes, and song lyrics - essentially my own personal Moulin Rouge Pinterest board. As Baz has said, "I always have a point of view. It may not be right, but it's my own." So I'm owning it.
Now that the collection is complete and ready to be presented, I've gone back to Baz's original theme: Love. I've used his theme, plus the soundtrack of this prolific film, and laid them down as the foundation to present this photo collection. Throughout the post you'll see I've connected the arc of the story through the stages of love; utilizing lyrics and quotes to support the imagery to narrate my personal affection for MOULIN ROUGE, photo to photo. You'll meet the players, find the meet cute, see the flirtation, the romance, the pain, the heartbreak, and finally the gratitude. My hope is that you are inspired and moved by this collection; to never give up, to finish what you start, to be kind to yourself, to allow yourself to grow, to motivate your passion, and to know that 'love is like oxygen, love is a many splendored thing, love lifts us up where we belong, and all you need is:
LOVE.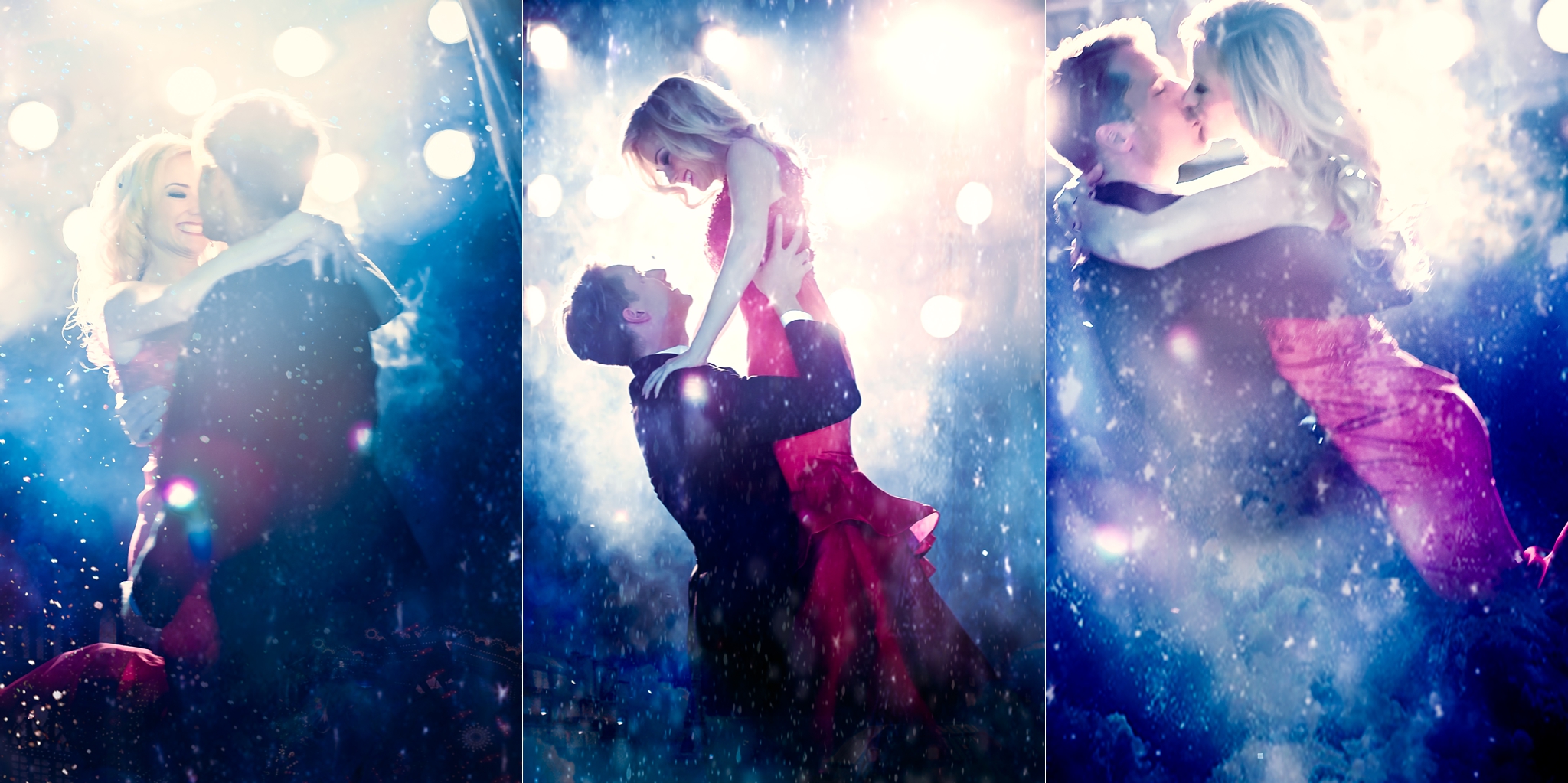 How wonderful life is now you're in the world.
ARTISTS:
TALENT
@stephiewall
@leighwakeford
BEAUTY
@alipstickvogue
JEWELRY
@jennydayco
WARDROBE
The Theatre Co., Upland CA
CAMERA I
@stevelimonesphotography
CAMERA II
@jodisasaki
CAMERA III & VIDEO
@eden.and.oak
LOCATION
City Hall - City of Pasadena
VHC Vonder Haar Center for the Performing Arts - La Cañada Flintridge, CA
SPECIAL THANKS & RECOGNITION TO:
Grady Hutt and Tracy Vonder Haar for being so gracious and providing us with the studio and lights. Thank you for letting us play in your wonderful dance rehearsal space.
Rheanne Garcia for executing and recreating the hair and makeup to perfection.
Jenny Dayco for her STUNNING jewelry pieces including the custom made courtesan crown and necklace.
The Theatre Co. in Upland for letting me commandeer their massive collection of costumes to help bring my shoots to life.
Stephanie & Leigh for bringing their A-game and incredible acting chops, plus enormous flexibility, understanding, and patience while I put this collection together.
Jodi & Chelsea for their support and encouragement, and their willingness to help even when it meant climbing a 20 foot ladder to throw glitter, and keeping the fog machine going when it was being stubborn. Also, to Chelsea for the beautiful behind the scenes footage.
Aaron & Rachel for the use of their fog machine.
Mike & Bethany for the dry ice.
And of course to JamesLukeBurke Creative for the endless amounts of help, critique, and love. Thank you for always pushing me to be better, to see beyond the literal, and for challenging my creativity to new heights - how wonderful life is now you're in the world. xx